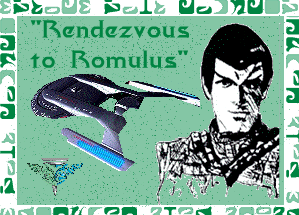 SYNOPSIS GUIDE
FORMAT: MD ##.****
MD
mission date
##
mission day number
****
hour
MD 01.0400 Captain Ramius receives a message from Proconsul Alidar Jarok's assistant Sivek that the Proconsul is dying and has requested Ramius presence.

MD 01.0730 Ramius receives word Jarok is dead and Jarok's family wishes Ramius attend the funeral.

MD 01.0800 Captain Ramius informs the crew the shakedown cruise will be to Romulus where the Captain
will be attending a funeral.

MD 01.1420 Thunderchild's impulse engines breakdowna few kilometers from Saladin station. The ship will
be delayed several hours.

MD 01.1510 Lt. Deitrahs offers his personal runabout the "Paid In Full" to Captain Ramius for his trip to
Romulus. Deitrahs & Quintela will accompany.

MD 01.1730 Romulan government requests an "official visit" by Starfleet. And two Starfleet JAG investigators to assist in investigating Jarok's murder. Thunderchild will go, after repairs.

MD 01.2320 Thunderchild docks at Saladin station, repairs begin. Chief engineer is discharged from The
Thunderchild for dereliction of duty pending formal charges.

MD 02.1800 'Paid In Full' is not allowed to cross Neutral Zone, and will have to wait for Thunderchild to rendezvous and pick up Captain Ramius and the runabout. Thunderchild leaves Saladin to pick up "Paid In Full".

MD 03.1200 "Paid In Full' rejoins Thunderchild, Captain Ramius back on board.

MD 03.1810 Arrival at Romulus

MD 03.2030 Ramius transports to Jarok family estate on Romulus.

MD 03.2200 Microfractures detected in the core warp core. Power is diverted from gravity generation and shields to sustain emergency containment field.

MD 04.0230 Gatewood and (NPC) JAG investigators meeting with Romulan Senate Special Prosecutor S'Tarr

MD 04.1500 Microfractures sealed by cellular replication. Crisis is avoided.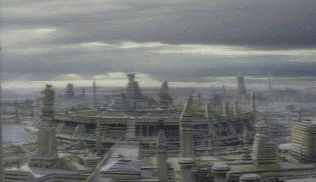 MD 05.2000 Romulans conclude investigation. Jarok's chief opponent is arrested for plotting his murder.

MD 06.0520 Thunderchild Captain, XO and JAG investigators transport back to Thunderchild.

MD 06.0800 Captain Ramius announces that he has resigned as Captain and is not leaving Romulus. LCDR Gatewood becomes new Commanding Officer.

MD 06.0950 Thunderchild leaves Romulus for the return to Saladin.
MD 07.0730 Faster than light comet by Kfarad on the way Back to Saladin. The Thunderchild changes course to investigate.
MD 08.1250 Theory devised for explaining the FTL comet.
MD 08.2015 After extensive studying by the science department, the FTL comet is destroyed and mined by Tallerians, with the Thunderchild receiving a "finder's fee".

MD 10.0200 Thunderchild arrives back at Saladin